Peterson, Stuart (1900 - 1976)
Stuart Peterson original cartoon artwork.
Born in Adelaide, Stuart Peterson studied at the National Gallery Schools in Melbourne before taking up a position as editorial cartoonist on the New Zealand Free Lance (1927-34). Returning to Sydney in 1934, Peterson worked freelance before becoming the main cartoonist at the Sydney Sun and Sunday Sun after Tom Glover's death in 1928. Peterson also contributed cartoons to the Sydney Bulletin in the 1920s and 1930s.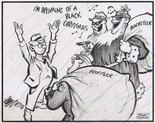 £345.00
Product Details »